(5 / 5)
This weekend Cardiff has had the luck of the Irish as Michael  Flatley's worldwide phenomenon  'Lord of the Dance: Dangerous Games' has played in St David's Hall. The tour is one of the biggest the UK has ever had and has currently been seen by 60 million people in 60 different countries on every continent. All of the stops are pulled out in this Irish Dancing Extravaganza with dancing that is simply mesmerising.
I have been looking forward to watching this show for a long time and being a tap dancer myself can appreciate the hard work and effort that goes into this form of dancing. I knew from the opening sequence alone we would be in for a good night. As the first half of the show begins the audience are greeted with a projected Michael Flatley and a giant clock alluding to the opening of the show.
The cast are very well cast and all of the characters within the show work well as a dance unit. The perfectly balanced ensemble of male and female dancers help to give depth to the story and in the dance sequences when they are all in a line and coordinated it really is something to admire. Their collective talent is unbelievable and there are moments where your jaw is in your lap watching their feet move almost as too fast to comprehend.  The  main lead Lord of the Dance was played by James Keegan and the Dark Lord was played by Zoltan Papp.
The show seemed to have a variety show feel to it with all of the acts being very diverse. They all managed to hold attention of the audience due to their frequent costume changes and the cleaver projections that portrayed Ireland as an Idyllic place filled with Unicorns and rainbows. The plot follows a little Spirit with a magic flute who battles against evil to save Ireland from being taken over by evil cyborgs. Along the way the Spirit meets different dancers as well as a Black Swan like love triangle that threatens to turn the head of Ireland's saviour, the Lord of the Dance himself. The show culminates with a big fight for the title of Lord of the Dance.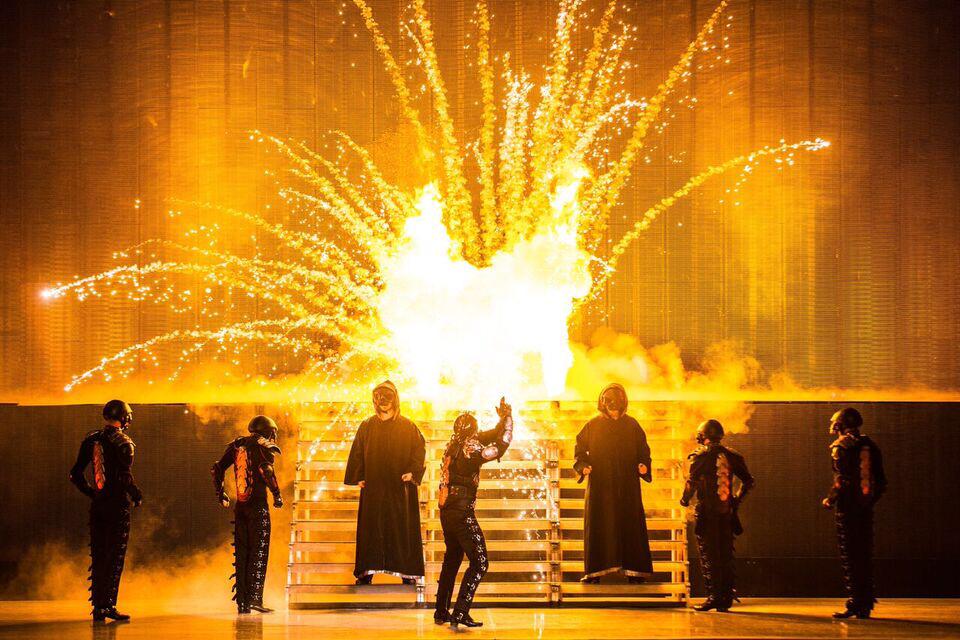 You can't help but have a big smile on your face when the full ensemble cast fill the width of the stage at St David's Hall and with their legs kicking and tapping in perfect sync. The show's best section and what will always be their most iconic is the 'Lord of the Dance', and the skill of the cast is amazing in which they gave four Encores at the end of the show of that very dance which was met with a standing ovation from the whole audience at St David's Hall.
If you're a fan of this type of dancing and the Irish music and culture this show is without a doubt the show for you to attend next. It provides a 5-star evening of entertainment with lots of ups and downs within the story. In my opinion this show is something everyone should experience once in their lifetime as it will enthral you.

For more information about the tour of the Lord of the Dance please visit the official website to see where the tour will be heading next. http://www.lordofthedance.com/