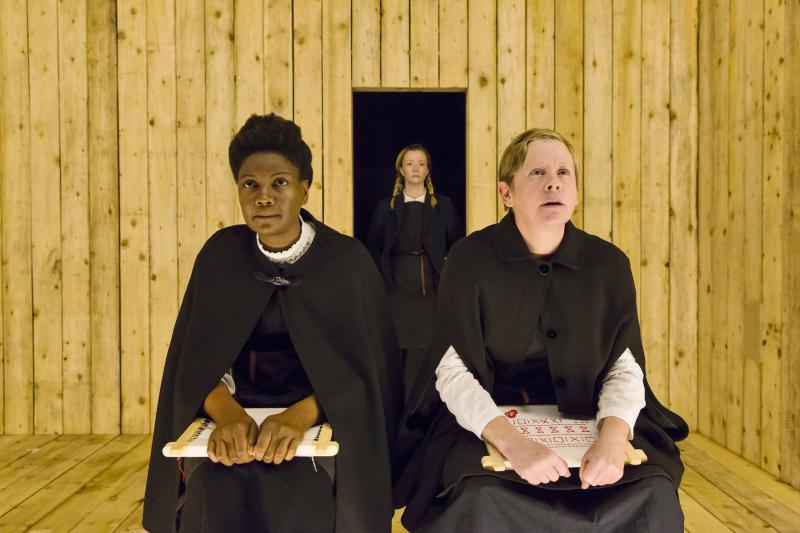 (5 / 5)
After being away for a while, my Royal Court cravings were high, so to be back and excited to what I was about to see was a lovely feeling.
As always, the Royal Court produces performances that make me feel as if I am entering a new theatre. Their spaces are so transformative, even the proscenium arch. However, this time we were upstairs and this space continues to be new, disorientating me in a good way as I try to think back to previous productions and how it was styled. It's like a completely new place.
The Sewing Group begins exactly as it sounds. We feel intrusive – the staging a simple wooden box with 2/3 women sat on stools sewing. Dressed in Amish style clothing, I begin to feel apprehensive – would this be a really intense piece? It did not seem at first as if this simple set up would be funny or surprising… boy was I wrong.
Directorially – this piece is brilliant and clever. Short scenes – and I mean short, perhaps only a few minutes are stylised with immediate black outs and tingy music. Each time it's as if we see a snap shot, creating the element of passing time. The two women sat sewing at first, limited speaking or movement, remind me much of the beginnings of a horror film – quiet yet concentrated, not revealing much, the entry of a third woman, an outsider brings home this element as she reacts to their strange ways just as we do. The character's quickly become more 3 dimensional – revealing more about themselves, their village and with the new arrival, some comedic moments come out.
Without any spoilers, these performers bring such interesting characters and elements to the piece, that you cannot fail be engaged. As the relationships and events progress, the scenes become more intense, more comedic, more emotional and to do this in short scenes is a triumph to the actor's capabilities.
The Sewing Group is surprising and enjoyable. Something that begins with apprehension to its creativity and a feeling that it may not be liked, soon becomes fantastic, intelligent and makes you wonder why you ever doubted The Royal Court's brilliance.