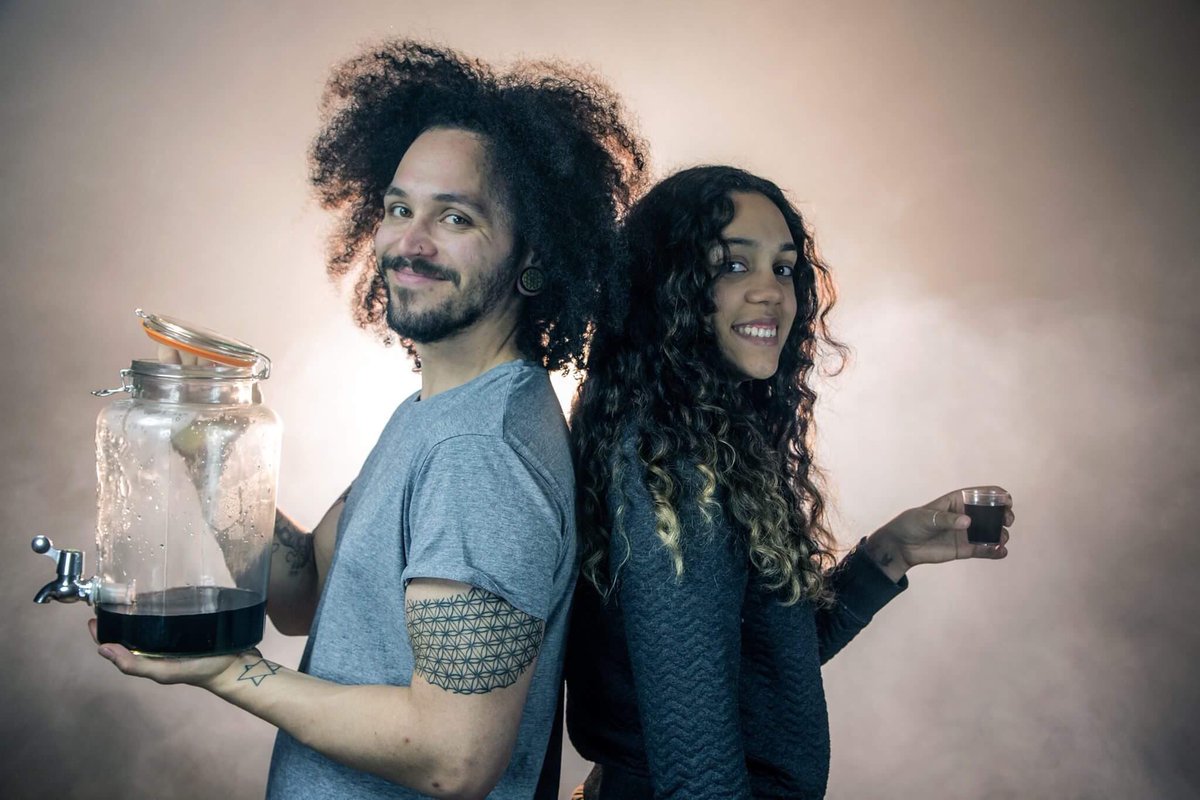 (2 / 5)

My first time at the Barbican, this little theatre tucked away in an alley opposite Plymouth Aquarium is a little gem in itself.
For my first trip here, I came to see Mixed Grill? by Beyond Face. The production uses many elements of music, video, real life story telling and picking up on history and present day topics related to race, with some physical theatre/dance fusions thrown in. One could say this is for sure a multi-media production.
The premise of the show is to highlight and explore race, from two mixed raced performers where they share their personal stories and feelings but also make comments on well-known worldly stories. They support this with mixture of music that represents the Caribbean and Britain and combine this with a narrative of making a traditional Caribbean curry for their British friends. Not only does the smell of real life cooking add to the senses and bring you into the room, but the naturalism of the performances invites you to the discussion.
A simple set, we see a bookcase with blank frames, adding to the tales of not feeling placed or at home with who you are and where you are. Other than that, it is set like a standard kitchen and with all the appliances and ingredients for the performers to make this curry, it is very lifelike and relatable. This puts us in the room and makes us feel affiliated with the performers, giving us the option to side with their ideals and opinions on race.
The performers themselves pick up on very good points – showing physically with black and white liquid the 'one drop system' in America which was originally unknown to me; transpiring their uneasiness with their own difficulties when it has come to race and their stories and, for example, the male performer and the 50/50 life he had growing up in London where he was accepted but other times not, through dance and physicality. They were lovely additions but it did feel as if a lot of the other points they made could have been presented this way.
While you can tell they have theatrical backgrounds and a want to show important points through this, the script was lengthy and, at times, were just chatting but without conviction. Such a huge amount of facts and points must have been hard to recite and therefore lost a little personalisation and theatricality – unfortunately it felt over rehearsed and scripted. As previously said, the physicality, while it  was good but seemingly also felt in production still,  perhaps throwing more of this into the performance to compliment the speeches would have made this feel less like a lecture and more of a performance. With this also comes projection – at times their voices did not quite fill the room or music drowned them out and this was a real shame as I really wanted to hear what they were saying from the important points to the comedy they were also trying to bring.
Saying all of this, Mixed Grill is a great concept, comical and a joy to watch but it still felt in a scratch stage and could become something really interesting and amazing – physicality, energy and more theatrical projection is needed just to push it that little bit further! And there is something about this pair and their approach to comedy and vast knowledge and research into an obviously personal subject that makes you really root for their success.