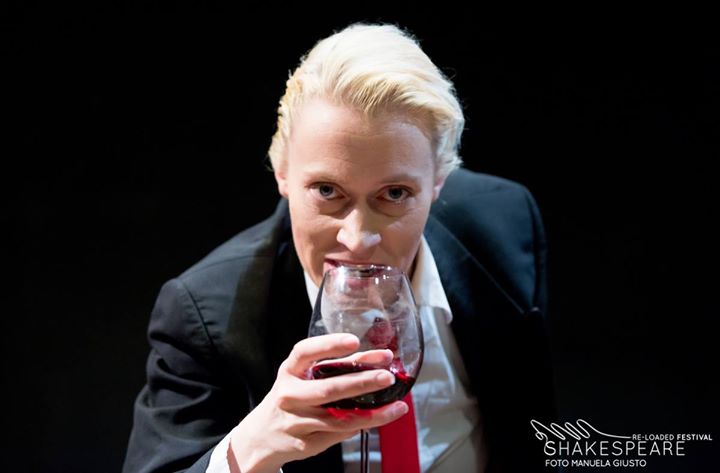 Richard III
Brite Theater
 Lion and Unicorn Theatre
(3 / 5)
Notably this year marks the 400th anniversary of Shakespeare's death. His time was one of his writing  on a standard stage, an all-male cast – the theatre not being a place for women to perform. And this would take a long while to change.
So who would have thought back then that so many different developments over the 400 odd years of his texts would lead to a one woman show of Richard the third in the top theatre of one of London's quintessential London Theatre Pubs.
Those who are unaware of this play – (and where have you been?) – Richard is a deformed hunchback whose is treated outcast due to this. His anger and jealousy from being overlooked overcomes him to lead him into plotting deaths, marriage and eventually becoming King. As all villains, he soon gets his comeuppance leaving the scene with the famous line ''A horse, a horse, my kingdom for a horse''
Described as a 'one woman show' – Emily Carding playing Richard is not alone. We are greeted to her room and given characters ourselves. The story is told through a narrative and we are spoken to as the characters but not with needing to respond. Carding manages to include us and show the two faced nature of the character – the welcoming and personal nature to each of us, and then the 'behind the back' narrative of what she really thinks of each of us – revealing her plots one after another.
We each feel different throughout this exchange – we feel like the characters and then we feel as part of her plot. Watching her interaction with the other audiences, her well constructed character she has developed rubs off onto each of them, making them believe their characters. The King is notably more proud than the average Joe who walks in, the love interest soon becomes flirtatious and shy at the conversation and touch of the actress, and myself as the Richard's friend? My outsider critical self could not tell but perhaps I was even convinced by her charm to be someone else for the night.
A minimalist set but full of skilled content, this 'one woman show' becomes about all of us and by doing so, becomes a very clever and immersive piece of theatre.
Drama
Richard III
The Lion and the Unicorn Theatre
May 16-28 May
Written by William Shakespeare
Direction by Kolbrun Bjort Sigfusdottir
Performance, props and poster by Emily Carding
Adaptation by Kolbrun Bjort Sigfusdottir and Emily Carding
Direction by Kolbrun Bjort Sigfusdottir
A Brite Theater Production